Introduction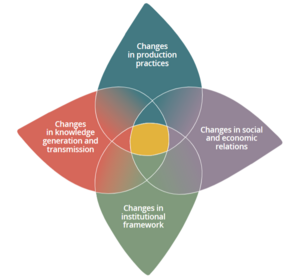 Brazil is currently the world's second largest producer of beef, exporting more than 25% of beef traded globally.[1][2] A large portion of beef cattle farming takes place at the interface between the Amazon Rainforest, which is located in western Brazil, and the Cerrado, a vast, tropical savanna in the eastern parts of the country.[3][4] The state of Mato Grosso, which accounts for 13.6% of Brazil's cattle herd, is one such region in this rainforest-savanna transition zone.[3][5] Beef cattle farming in Mato Grosso dates back at least to the 1720s, and has expanded significantly in the past four decades.[6] This growth is driven mainly by an increase in domestic consumption, and in recent years, by exports to Asian countries such as China.[6][7] Although the beef sector is a vital part of Mato Grosso's economy, its rapid expansion has resulted in many environmental concerns.
In aims to increase overall productivity, the beef industry has also resorted to cutting down portions of the Amazon Rainforest to make room for new pastures.[8][9] This, in turn, has resulted in a significant amount of deforestation, which threatens many key ecosystem services and dependent economies.[10] Furthermore, the beef industry produces large amounts of greenhouse gas emissions in all stages of the supply chain. These emissions are further compounded by deforestation, which reduces the ability of the Amazon to sequester carbon.[3][11] Finally, the integration of Mato Grosso's beef sector into the global economy has led to increasing demand for exports,[7] which exacerbates many of the aforementioned problems.
The Novo Campo Program, a pilot program involving six cattle farming properties created in 2012 by the NGO Instituto Centro de Vida (ICV), attempts to address some of the problems experienced in conventional beef cattle farming in Mato Grosso.[5] In this case study, we aim to explore the social ecological failures that existed in Mato Grosso prior to the creation of the Novo Campo Program, in addition to the continued failures of conventional beef operations in the state. Our methodological approach is to analyze this case study as a social ecological system (SES) according to the IPES analytical framework "The Four Dimensions of Change".[12] The application of this framework will address the transformation and entrenchment within agroecological transitions via the analysis of production practices, knowledge generation and transmission, social and economic relations, and institutional structures (Figure 1). From this investigation, we will discuss how the Novo Campo program has transformed some aspects of beef cattle farming on the six treatment properties invited by the ICV.
source: https://wiki.ubc.ca/Course:RES510/2022/The_Novo_Campo_Project:_Transitioning_to_sustainable_livestock_agriculture_in_the_Amazon
Post Image Credit: Ottocarotto, CC BY-SA 3.0, via Wikimedia Commons